£300 + engagement ring buys a happy marriage?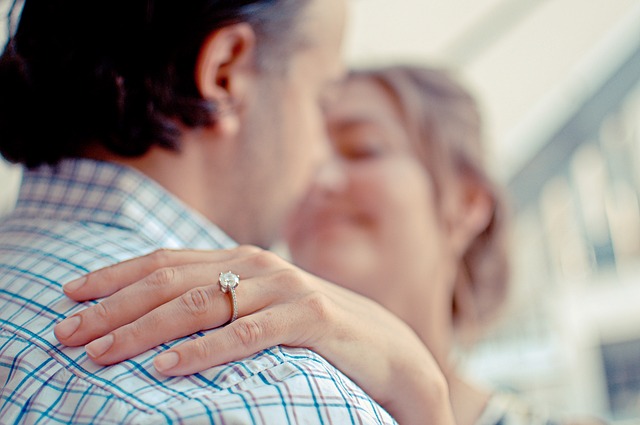 An online diamond retailer has conducted a survey of 1,000 women asking them how much their engagement ring cost and whether they were still married. The results suggested that marriages where women were given engagement rings worth £300 or less were most likely to fail.
Are Cheap Engagement Rings to Blame for Divorce?
It would be easy to say that it is the man's unwillingness to spend more, or the woman's disappointment with her engagement ring that is the reason for a divorce. However, the most common reason for considering divorce in the UK is actually money problems. It is much more likely that a £300 ring is an indication of how little spare cash was (and is?) available to the couple.
A 'live for today' attitude rather than a 'save for the future' mentality is the cause of the high divorce rate for this particular group of people. And, it is this attitude that can make for poor financial stability even though marriage is meant to confirm a stable relationship as able to endure the pressures of life.
Buying An Engagment Ring Soon? Here's the Secret to a Successful Marriage

So, sorting out your debt issues, poor credit history and taking back control of your finances could actually be one of the key ingredients to a happy marriage!
You might do this by sitting down with your partner and having a talk about how much money each of you has coming in and sorting out a budget plan that is acceptable to you both. If you and your partner are really serious about each other, then this is a tough conversation, but you probably need to have it. Remember, you are planning a future together, so work together; debt is the problem you are both solving. This sounds like a hard thing to do, but it is surely easier than going through a divorce later.
Solving a Problem Like Debt
If you are in debt and your total non-mortgage debt adds up to less than half of your annual take home pay (as a very rough guide), then you can save by refinancing debts and reducing bills.
It might sound counter-intuitive, but saving, even at the beginning, is a good way to tackle debt problems. Make sure that something is left in your budget to put into a savings account  -  even if it is only as little as £5 a month -  and do it before you spend that fiver on anything else!
If you save with a credit union, you may find that you get access to cheaper loans just through some small savings with them.
Prioritise your outgoings, bills and expenses into 'need' and 'want' lists. Everything on the 'need' list you have to pay in order to live and work, everything on the 'want' list you can actually very well live and work without. There are some great household budgeting tools out on the web to help you with this.
Have a look at your debts. Do you know how expensive they are? Can you get a cheaper loan to clear up or consolidate multiple small expensive debts? Can you cut up, freeze or cancel any credit cards you might be using?
Once you have answered these questions, you are ready to look at the different types of loans you are eligible for on the FairMoneyTM footprint free smart search website. We're the first fair loans comparison website, where advertising lenders are ranked by the cost of interest they charge and not how much they pay to advertise!. Our searches don't leave a trail of credit checks that can further lower or even damage your credit score either.
How Can 
FairMoney

TM

 

Help?

All loans presented to you by FairMoneyTM will be displayed in the order of their Annual Percentage Rate (APR), meaning the cheapest loans available to you will always be at the top of the list presented to you. And, you won't see any expensive payday loans unless you specifically ask to see them.

All members of the FairMoneyTM lenders panel have signed up to the FairMoney PromiseTM so you know that you'll be dealt with fairly, in accordance with all government regulations and recommendations. And, if you have any questions on personal debt or related issues that you'd like to see addressed in our blogs, please do tweet us on @fairmoneytweets.

The journey out of bad credit can be long and require lots of daily sacrifices, but it is well worth it.

If you are worried about your personal finances, try the Money Advice Service Website for independent advice and guidance on what to do. They have some great advisers and they are always on your side.